"Just look for that little red fish at the dock."
Upon arriving in Positano, we dropped our bags at our hotel before heading down to "look for that little red fish at the dock." I had heard from my sister and brother-in-law that of all the things to do in Positano, we had to make sure to get a reservation at Da Adolfo. Months in advance I pestered our hotel (pretty sure I drove the sweet Nicola at the Hotel Mirarmare a little crazy with my emails). They only take reservations via telephone (no email) and based on what Nicola told me, it can be hard to get someone live on the phone. BUT sure enough, Nicola made it happen (Grazie ancora volta!) and we were able to see for ourselves why this little beach club is such a special spot.
We went down to the dock and within minutes, we saw it, an adorable old boat bobbing toward us with a red fish on the mast and a shirtless, round, tanned Italian man as its' captain. We were not able to get on at first (we were waiting with a group of about 15 others) but he reassured us he would be back in 20 minutes or we could take a taxi boat with some of the others instead. Rather than waiting, we went to share a taxi which was easy and only cost a few euros once we split among us. And just ten short minutes later, we arrived at Laurito Beach. As you pull up to this private little beach, you notice there is nothing glamorous about it but at the same time, it has all the charm. The menu is on a chalkboard in the corner, and there is a tiny little kitchen with maybe only about two dozen tables. The server came over to take our order and we hesitated because we wanted to try one of everything. The smells coming out of the kitchen were insane…so seeing that we were at a complete loss, he listed off about 4-5 things and says, "e ok?" "Si, perfecto."
We ordered a pitcher of the sangria, white wine with peaches (one quickly turned to two), and shared the mozzarella alla griglia "grilled mozzarella", the mussels pomodoro, polpo "octopus," and spaghetti primavera. Every single dish was AH-MAZING.  It was hard to believe that all of this beautiful food was coming out of the little hole-in-the-wall kitchen. By far, one of the best meals of our whole trip. Not only was the food delizioso but we slowed down and enjoyed what the Italians love to do, which was a verrrry long lunch savoring la dolce far niente, "the sweetness of doing nothing."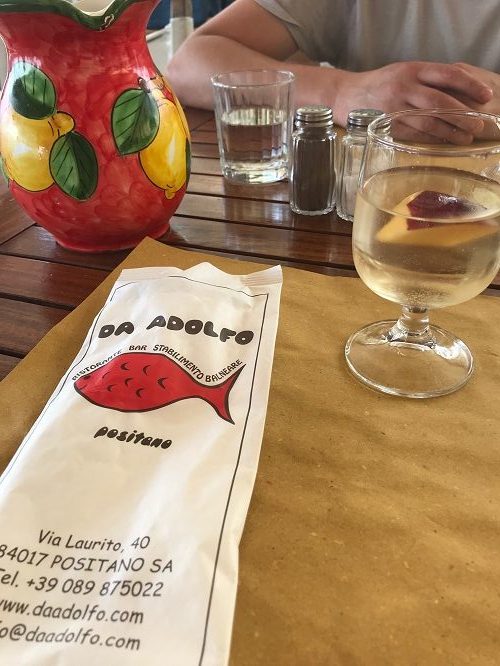 Da Adolfo is definitely a must-do in Positano. It might not be the easiest reservation to get but you will be so grateful you did once you step on to the beach and order that first pitcher of sangria. Cin cin!
Tips:
Da Adolfo opens in the middle of May and stays open through October normally.  I recommend utilizing your hotel concierge to get a reservation. If you are staying at an Air BnB I recommend calling around 11am or 5pm Italian time to catch them before they open or close. Or ask your host to help you out.
Wear sandals! We were both in sneakers and when boarding and de-boarding at Laurito, we ended up with soggy shoes due to the waves.
I do recommend a reservation but we did see a few lucky ones show up without one and they managed to get a table after waiting patiently for awhile.
If you want to go for the day, you can arrive as early as 10am and reserve a beach chair. Note, you will also need a separate reservation for lunch. The last boat departs by 4pm.
Divertiti! "Have fun!"