There is a reason Osteria dell'Enoteca was featured by Eater as one of the 10 best new restaurants in Florence in 2018. My husband and I were in Firenze for our friend's wedding in September last year and were looking for a spot to share an early lunch (early by Italian standards) before we needed to head back to get ready for the ceremony. I had seen Girl in Florence often feature Osteria dell'Enoteca on her Instagram so figured it was worth checking out.
Located just past the Pitti Palace near the the Boboli Gardens on a quiet street, dell'Enoteca is off the beaten path from tourist areas which was a nice change from the restaurants in the city center where you often are not surrounded by locals. It is modern yet rustic and casual but elegant.
It was barely noon when we arrived so we were the first ones to be seated and had the dining room to ourselves. Perfect place to share a romantic little lunch just the two of us. ? We started with one of their specialties, "Intingolo di Funghi con Fonduta di Pecorino e Uovo Affogato" which is a poached egg served in a cream of Pecorino cheese and topped with mushroom. Wow, delizioso! This one dish alone would make a trip to dell'Enoteca worth it. We shared two pastas, a tortellini which also was with mushrooms as well as a spaghetti with a goose ragu. The service was warm and the meal was excellent. We finished up our bottle of wine and headed back to our Air BnB. The only thing I would have changed about our time at Osteria dell'Enoteca is we would have had the time have to linger longer and taste one of their desserts.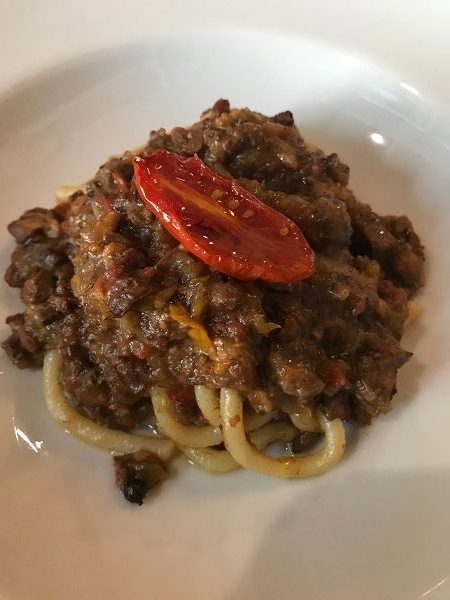 Tips and Recommendations:
Recommend a reservation at both lunch an dinner unless you arrive early like we did.
Although we cannot vouch for their "bistecca all Fiorentina," dell'Enoteca is also known for their their Florentine steak and has received wonderful reviews. If you go and try it, please let me know what you think! ? Divertiti!
Osteria dell'Enoteca
Via Romana 70r
Florence
http://www.osteriadellenoteca.com/