Shared by special guest contributor, Lisa Parro, a Chicago based food and travel enthusiast.
"New Orleans food is as delicious as the less criminal forms of sin."

Mark Twain
If your impression of New Orleans is limited to the bacchanal, beads and beers along Bourbon Street, you've only got a partial picture of the Big Easy. For my 40th birthday, my husband Dave and I set out to explore all the Crescent City has to offer. Although we did hit a few of the typical tourist traps, we made a point to venture off the beaten path — and NOLA did not disappoint.
Because it was our first time there, we arrived armed with recommendations from friends and colleagues. Here are highlights from our itinerary. We stayed just a few days — "long enough to pick up some bad habits," our airport taxi driver said with a smile — and found there's always a party in New Orleans.
Day 1
3 pm arrival at Louis Armstrong Airport, New Orleans
We took an afternoon flight from Chicago, landing in New Orleans around 3 pm the day after my milestone birthday. Upon arrival at the Homewood Suites by Hilton, the hotel staff recognized my special day with a goodie bag that included a bottle of water, two candy bars and a dose of Advil — "hangover cure," the kindly front desk employee said as she handed it to me.
Our suite was spacious and clean, in a quiet building located in the Central Business District, a neighborhood swarming with hotels within walking distance of both the Mercedes Benz Superdome and the French Quarter. After dumping our bags — and our jackets — we set out to explore the city.
5 pm French Quarter
Bourbon Street was filled with folks young and old clutching plastic cups, visiting souvenir stands, hotels, bars and restaurants and waving from balconies. We walked nearly the entire length of the street as it runs through the French Quarter, checking out the fortune tellers in Jackson Square, gawking at the St. Louis Cathedral and picking up a few strands of souvenir beads for the kids at The French Market, a mix of traditional retail, farmer's market offerings and flea market finds.
Doubling back, we headed to Cafe Beignet for a between-meal snack of the deep-fried fish platter (which includes fried okra and is served atop french fries) and a paper plate of powdered sugar-laden beignets. The cafe consists largely of an outdoor courtyard filled with eight large bronze statues of hometown musicians, including this one of Louis Prima. Live music plays 16 hours a day at the cafe. During our visit, the house band treated us to their signature New Orleans sounds and even invited up a visiting New Yorker to sing an impromptu session, much to the crowd's delight.
7 pm cocktails at The Sazerac Bar
After a couple beers and hurricanes at the cafe, we ditched the Bourbon Street crowds and headed to The Sazerac Bar at The Roosevelt Hotel. Named after what many consider to be the first mixed drink ever served — The Sazerac offers an array of craft cocktails. Dave ordered the Sazerac, also dubbed the official cocktail of New Orleans (a moniker I mistakenly thought belonged to the hurricane), while I opted for the Christmas Cookie from the bar's holiday cocktail menu. We stopped to enjoy the stately lobby of this century-old Waldorf Astoria branded property, which was decorated with tiny white lights for the holidays.
9:30 pm late dinner and nightcap at Luke's
Still full from our late lunch and cocktails, we opted for a late dinner and snagged reservations at Luke, a Creole-inspired brasserie and raw bar near our hotel. It came highly recommended for its authentic New Orleans dishes, including seafood and sausage gumbo with just the right amount of spice and jumbo Louisiana shrimp "en cocotte," better known as shrimp and grits.
Day 2
10 am Breakfast at Surrey's
On our second day, we slept in a bit and then took a rideshare to Magazine Street to shop and brunch. We put our names down on the Surrey's waitlist and shopped at a few quirky boutiques while awaiting a table. When our table inside this quaint, bright and cozy diner was available, Dave had the Bananas Foster French Toast, egg-soaked bread stuffed with banana cream cheese, and I ordered the crab meat omelette, eggs stuffed with avocado and brie and topped with a creamy helping of jumbo lump crab — plus a homemade biscuit on the side. Neither of us finished our monstrous portions, returning to the shops along Magazine Street with full bellies.
1 pm Shopping on Magazine Street, Touring the Garden District
We got our steps in by taking Magazine Street all the way to the Garden District. We considered investing in one of the many professional tours, but instead opted to take our time walking to the Garden District and check out the historic sites on a self-guided walking tour. Plaques posted on fences outside the District's most famous homes tell the history of these beautiful residences.
4 pm Trolley ride
Next we hopped on the famous St. Charles Line Streetcar. We thought the trolley would give us a better view for site-seeing, but we were packed into a standing-room only crowd of passengers. Nevertheless, it was a convenient and affordable way to get back to our hotel.
6 pm Marigny District/Frenchmen Street
That night, we explored Frenchmen Street in the Marigny District, an area known for its jazz clubs. For dinner, we made reservations at Three Muses, splitting the Gulf fish tacos and braised meatballs. The eclectic menu highlights both carnivorous and vegetarian options among its small plates — which include blue cheese stuffed dates, roasted Brussels sprouts and a cheese plate — and full-size entrees like gumbo, Israeli couscous and a tofu rice bowl. I enjoyed the signature cocktail, The Muse, a gin-based concoction with a blueberry garnish, while Dave nursed The Mahogany, a bourbon cocktail. We enjoyed live music from pianist Tom McDermott and then walked to Cafe Negril for more music and drinks. Like many NOLA hot spots, the cafe features live music 365 days a year.
We stopped to shop at the lovely open air Palace Market, which features jewelry, art and other handcrafted goods from more than 80 artisans seven nights a week. Our night ended at The Spotted Cat Music Club, an intimate space packed with revelers dancing to live jazz from the upbeat James Martin Band. Be advised that it's a cash bar with a cover charge, so if you only carry plastic you'll want to plan ahead.
Day 3
10 am Crescent Park walk
On our final day in the city, we explored some of the farther-flung environs, walking along the entire 1.4-mile riverfront stretch of Crescent Park all the way to Bywater, a neighborhood with a definite bohemian vibe.
11 am Happy Hour at Bacchanal
We sat in the lovely outdoor courtyard at Bacchanal, which bills itself as "NOLA's backyard party" for its live music and extensive cocktail menu. The food menu is limited; among the popular items is a design-your-own meat and cheese board. Not holding back, I grabbed the best-looking prosciutto, blue cheese and assorted accompaniments and experienced sticker shock when I got to the clerk and was charged $45.87. But, alas, it was happy hour so the drinks were cheap — at least that's what we reasoned as we made sure none of the delectables went to waste!
1 pm Drinks at Parleaux Beer
We then wandered over to Parleaux Beer Lab, a neighborhood tap room and microbrewery — also with a friendly outdoor patio. I tried the Long Way To Fall Märzenbier, a Bavarian-inspired lager, and my husband enjoyed something a bit darker, the Tortoise and the Hare Maibock.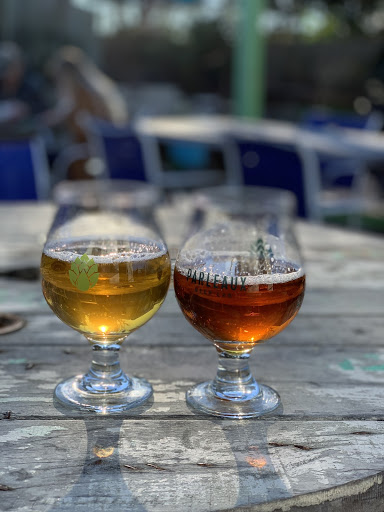 3 pm City Park
On our way to the airport, we stopped at City Park, a massive (1,300 sprawling acres) public park replete with a mini golf course, botanical garden, equestrian facility, disc golf course, playgrounds and city museum. With limited time, we recommend exploring the sculpture garden; the peace and quiet it affords will make you feel far from the madding crowd.
City Park also is home to an outpost of Cafe Du Monde, affording us an opportunity to taste their famous beignets away from the ever-present lines outside the original tourist-laden French Quarter location.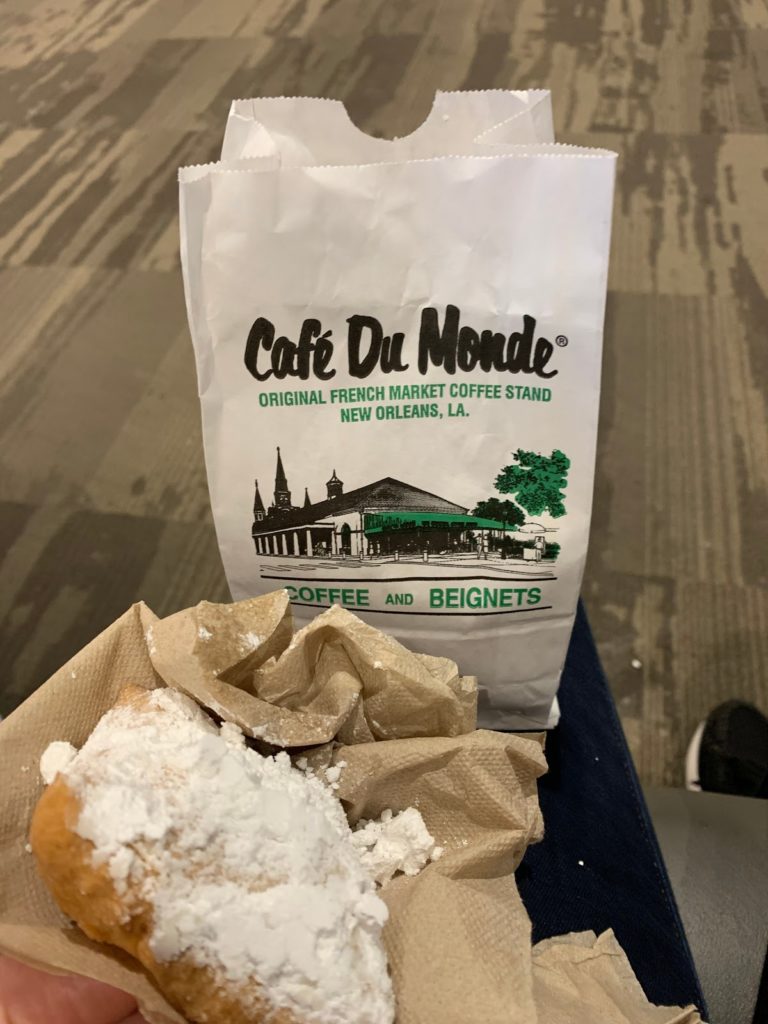 After 48 hours experiencing New Orleans in all its off-season revelry, we headed back to Chicago feeling satiated — and perhaps a little hungover. Until next time, NOLA.
Lisa Parro is a journalist turned health care marketer whose idea of a good time includes eating good food, laughing with loved ones, reading interesting memoirs and pointing out typos. A married mother of two living in Chicago's western suburbs, she loves traveling but doesn't get out nearly as often as she'd like to. Find her at twitter.com/lisaparro