If you are heading to the region of Connemara, Co. Galway Ireland, then there is no better place to stay than the beautiful and charming Ballynahinch Castle. With more than 700 acres, the property has miles of walking paths, an English garden, spacious and lovely rooms, and some of the best fly fishing in all of Ireland. And to top it off, the Ballynahinch was ranked as the number six resort hotel in Britain and Ireland by Travel + Leisure readers for 2019.
Located just over an hour's drive from Galway in the heart of Connemara it is the perfect base to be able to explore the region including Connemara National Park and the Kylemore Abbey.
Upon arriving, you will take the winding drive to the front of the manor house (dates back to the 17th century) and the smell of the fireplace burning will greet you before the receptionist does. The thing that strikes you about Ballynahinch is that although it is a luxury hotel, there is a casual and quaint feel about it.
There are two restaurants – the Fisherman's Pub and The Owenmore. We enjoyed both but preferred the Fisherman's Pub for the casual feel and live music in the evenings. Make sure to go and enjoy the beautiful breakfast spread in the dining room in the morning.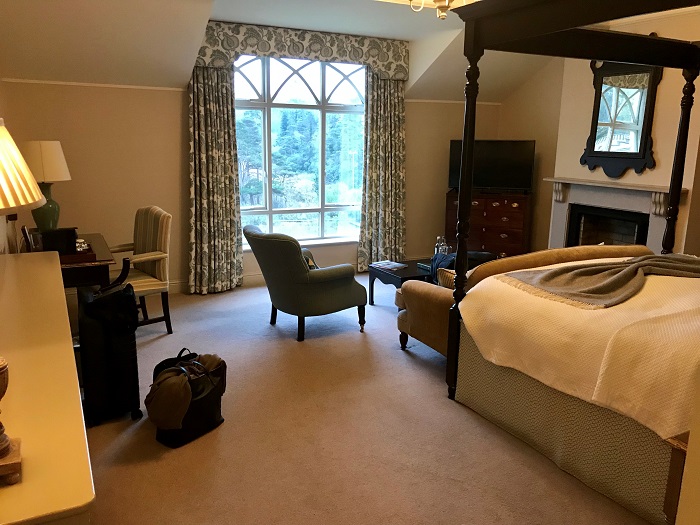 Other Tips and Recommendations:
We stayed in a "Luxury Room" to ensure a view of the river but all of the rooms at the Ballynahinch are beautiful and comfortable.
No need to pack your wellies, the hotel has a pair for you. 😉
If you want to dine at either the pub or the restaurant, it is best to make reservations to make sure you get your preferred time but we did not have any issues and the hotel was very accommodating.
Highly recommend taking a morning to walk around the whole property or enjoy a stroll before dinner. It is so peaceful! You can also schedule a guided tour of the property with the front desk.
Make sure to hike Diamond Hill in Connemara National Park – This was a highlight of our time in Connemara. Wear comfortable clothes and layers – It is quite windy at the top!
Drive Sky Road – We were not able to enjoy it to the extent that we would have due to a fog that rolled in but I can only imagine how beautiful the view would have been at the top.
I also highly recommend driving into Clifden, just a 7 minute drive from the hotel for lunch or dinner. We drove into town several of the days we were there and would recommend the following: