I often get asked, "Of all of the places you have been in Italy, what is your favorite?". Rome, without question. I feel more alive when I am there. It may only be because the city itself has played a special role in my life story that I feel this way but I think that my memories just add to the magic that is Rome. Much like everyone who visits Rome, I too love being able to hear the Fontana di Trevi before you actually see it and the true sense of wonder you feel as you stand in front of the Pantheon but I also love the parts of the city that you would not expect. I love waking up to the sound of the delivery trucks backing in and out of the narrow streets, the Italian voices echoing off the alley ways, the smell of the "motorini" mopeds whizzing down Corso Vittorio Emanuele and the chaos of trying to order an espresso at Sant 'Eustachio at rush hour. There is something in these mundane things I find comfort in that others would undoubtedly say are the reason they prefer Florence or the quieter towns of Tuscany.
We sometimes kid around about booking a ticket just for the weekend so we can go to all of our favorite places and be back in time for work on Monday. Just to get our "fix" because it feels that way when we are there, a true high. Maybe one day we will do it. And if we do, this is what we would do with our 48 hours in Rome.
Hotel Recommendations:
We like to stay near Piazza Navona because it is our favorite piece of Rome, centrally located, so majority of the hotels listed above are near this piazza. I also included The Westin, which is near Termini (easy train access to the airport) as well as a splurge option, the Hassler located at the top of the Spanish Steps.
Day 1
11:00am – Arrive at our hotel
11:15am – Espresso
A little jet-lagged means our first stop is for an espresso. We will walk through Piazza Navona just to catch a glimpse of the Fontana dei Quattro Fiumi, "Fountain of the Four Rivers" before heading to our one of our favorite go-to spots for coffee which is just a stone's throw away, Sant 'Eustachio il Caffe.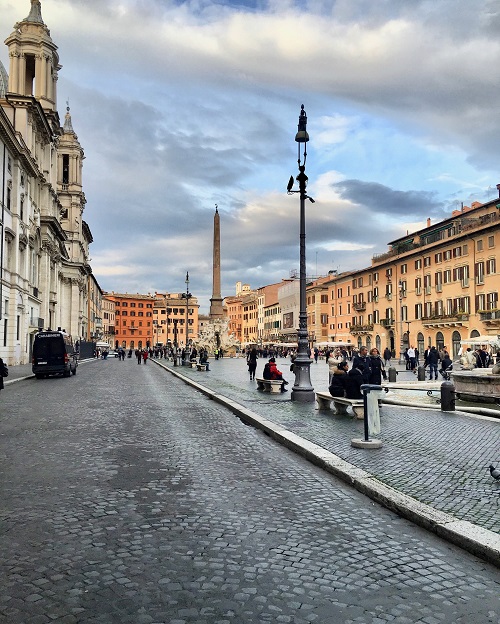 12:00pm – Campo di Fiori
Our next stop is the "field of flowers" to walk through the market and grab a panino or pizza bianca from Forno Campo di Fiori or Antico Forno Roscioli. (Tip: I highly support going to both just to see who you think does it better) 😉
1:30pm – Spanish Steps
Our agenda for any day in Rome is – walk, espresso, wine, repeat (maybe with some cacio e pepe or amarticiana in between). So our next stop is Piazza del Spagna to people watch and window shop on Via dei Condotti with a stop for an espresso at Caffe Greco and glass of wine on the beautiful terrace at the Hotel de Russie.
3:30pm – Villa Borghese Gardens
Stroll through the Borghese Gardens, maybe making-out here and there. 🙂 Borghese is the third largest public park in Rome with beautiful manicured gardens and an incredible view of the city.
4:30pm – Join the "Passeggiata" with Gelato
My favorite time of day. Love golden hour in Rome and joining in on the Italian passeggiata, especially with a gelato. One of my favorite places is il Gelato di San Crispino for pistachio.
6:30pm – Apertivo
One of (our many) favorite Italian traditions is "aperitivo", a drink/light meal that takes place at the end of the workday. It is their version of "happy hour". Time to head to the roof of the Palazzo Navona Hotel for an "apertif" and enjoy an aperol spritz or prosecco. (Note: This is the spot Chad proposed in January 2017)
8:30pm – Dinner at Il Corallo
There are so many restaurants that cater to tourists in Rome that often many people leave thinking Rome does not have very good food. But in actuality, you just have to know where to go and know that you will have to forgo sitting in a piazza with a view . Il Corallo is our favorite place to enjoy simple food in a cozy atmosphere. Nothing fancy just great antipasti, pasta and pizza.
11:00pm – Trevi Fountain
I love seeing the Trevi during the day but it's even more special in the evening (much like most of the sites in Rome). We can't leave Rome without throwing a coin (from the right hand over the left shoulder), to guarantee our return.
Day 2
9:00am – Cappuccino
Back to Sant 'Eustachio il Caffe. (Note: Italians only drink cappuccinos in the morning, never after 11am)
10:00am – Walk down the Tiber River
Walking down the Tiber is an experience in and of itself. When you think of the history of the city, what has gone on in and around the Tiber and then you see the Castel Sant'Angelo and the dome of St. Peter's, it's pretty extraordinary.
12:30pm – Lunch in Trastevere
If you continue down the Tiber, you will eventually come across the colorful and lively Trastevere neighborhood. A stop at Da Enzo or Ai Marmi for lunch is in order.
2:30pm – Gelato
I tend to need something a little sweet after most meals and "When in Rome" that means gelato. Otaleg has some of the best gelato in Rome, located in the heart of Trastevere.
3:00pm – Walk to the Colosseum and Roman Forum
Earning our pasta and pizza…getting our steps in.
6:00pm – Apertivo
Terraza Borromini is a centrally located hotel/rooftop adjacent to Piazza Navona and is a great place to watch the sunset over Rome.
8:00pm – Ristorante Roscioli
Roscioli is a special spot and one we will always go to every time we are in Rome. Two things: You must make a reservation and you must have their burrata "truffle" tartufo. I dream about it.
11:00pm – La Botticella
La Botticella on Via di Tor Millina near Navona is the bar where Chad and I met 13 years ago. It will always be a spot on our Rome itinerary. Giovanni is the owner, make sure to tell him we sent you! Cin, cin!