In the Jewish Ghetto of Rome, there is a special place called Sora Margherita. This little hole-in-the-wall, is a little hidden gem, and you could almost miss it if you are not looking for it, located in Piazza delle Cinque Scole.
The door of the restaurant is not a door at all but has red braiding and outside there is one little chair (in which an older man was resting on) and a paper sign with the specialità del giorno "specials of the day". I had read that you need to arrive early in order to snag a table at lunch time so at 12:15pm, we were luckily the first ones there (it opens at 12:30). The man nodded his head recognizing that we were waiting and he muttered something in Italian which I took as "we are not ready yet." Once they were ready (it was definitely after said opening time but hey we were in Italy, it's expected), a woman came out to get us and we were able to see what was behind the braided curtain.
It's a small little spot with the kitchen maybe being the size of a walk-in closet, couldn't have been bigger than a fiat. Walking to the back, all of the tables were covered in paper with newspaper clippings and scraps of paper on the walls (once we sat down we realized they were notes and word of thanks from their customers who love Sora Margherita).
It must have been maybe only 10 minutes before the entire restaurant was full – but it was not tourist-filled. It was families with little ones, businessmen in suits and a single gentleman who was seated next to us. The tables are situated right next to each other, so you quickly get to know your neighbors. He was an Italian wine distributor passing through town and told us Sora Margherita is the one place he always stops every time he is in Rome.
We had not even ordered but at this point we knew we were in for a treat. The walls were literally covered in love, the smells from the kitchen were fantastic and you could feel the energy of all of the people in the dining room. When in Italy, it is often best to just ask what is good that day and let the server take it from there and that is exactly what we did.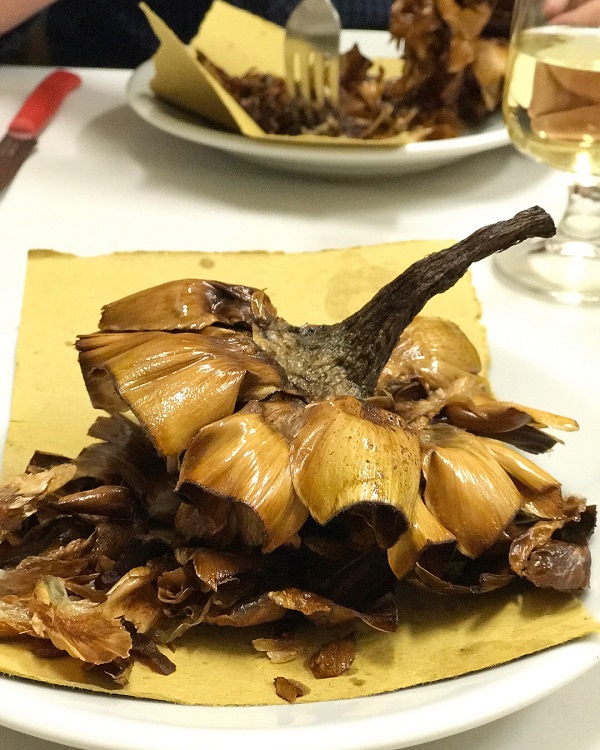 We started with Carciofi Alla Giudea – deep fried artichoke, a Jewish specialty in Rome. Sora Margherita is also known for theirs. They did not disappoint. We had never tried an artichoke cooked like this before. It was like eating artichoke chips.
We then shared two pastas, Fettuccine Agnolotti and Bucatini all'Amatriciana. Agnolotti is typical of the Piedmont region made with small pieces of flattened pasta dough, folded over a filling of roasted meat or vegetables, and rather than a tomato based sauce, it has just a little melted butter with parmiggiano reggiano, so you can taste the flavors inside. No cheese is inside agnolotti and if there was, it would be ravioli and not agnolotti. 😉 This agnolotti was covered in a dollop of ricotta. Va bene!
Although one would think that all pasta you eat in Rome is homemade, this is just not the case. But rest assured at Sora Margherita, ALL the pasta is made in their little kitchen. You can watch a video here. WARNING: You will be craving a bowl of pasta after watching. 🙂
We hope to return again one day soon! It's a must for any trip to Rome.
Piazza delle Cinque Scole, 30
Rome, Italy (Centro Storico/ Ghetto)